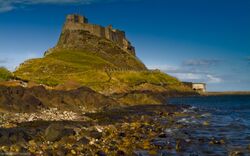 The Holy Island of Lindisfarne is a tidal island off the northeast coast of England. It is also known just as Holy Island. It constitutes the civil parish of Holy Island in Northumberland. Holy Island has a recorded history from the 6th century. It was an important centre of Celtic Christianity under Saints Aidan of Lindisfarne, Cuthbert, Eadfrith of Lindisfarne and Eadberht of Lindisfarne. After Viking invasions and the Norman conquest of England a priory was reestablished. A small castle was built on the island in 1550.
to be added
Known inhabitants
Edit
Annie Randall †
Coopers †
Kate Randall (former)
Mr Marsden
Mrs Lester
Mrs Marsden †
Ad blocker interference detected!
Wikia is a free-to-use site that makes money from advertising. We have a modified experience for viewers using ad blockers

Wikia is not accessible if you've made further modifications. Remove the custom ad blocker rule(s) and the page will load as expected.